ForecastWatch - Accuracy Defined
Meteorologists
Demonstrate the Value of Your Products to Customers
When customers are asked what they want in a forecast, accuracy usually rises to the top. However, there has been precious little real, unbiased data that you can point to, or your customers can access, until now.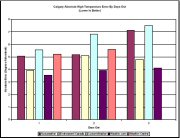 You have always competed with public forecasts. Now you can show potential customers the extra value your meteorologists and forecasting systems provide.
With ForecastWatch data, you can provide potential customers with third-party data to back up your accuracy claims.
You can provide your largest customers with custom reporting that will keep them happy and confident that you are providing them accurate, high quality forecasts.
The result of adding ForecastWatch to your sales toolbox is greater conversion of potential customers to paying customers. The result of adding ForecastWatch reports for your existing large accounts is more loyal, confident customers.
Improve the Quality of the Products You Offer
ForecastWatch can capture your forecasts the way your customers see them whether via an HTML page, FTP, web services, or text file. While your quality staff may only check a small sample, or only check during release testing, ForecastWatch can check thousands of forecasts every day.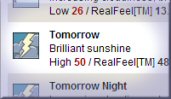 ForecastWatch can check for presentation errors. Does your web display software have subtle threading errors, resulting in Saturday following Sunday and Tuesday occurring twice in one week?
ForecastWatch will discover forecasting errors. Imagine your customer's reaction if they saw that you forecasted a low temperature hotter than the Sun?
ForecastWatch looks for icon selection rule problems. Would it be confusing to your customer to have a dark thunderstorm cloud icon with a forecast text of "Brilliant Sunshine"?
The result of adding ForecastWatch to your quality assurance program is higher quality forecasts, and happier customers that see your data is the highest quality.
Measure Performance and Improve Your Forecasting
All forecasts are not created equal. How do your forecasts measure up with your competitors? How accurate are your forecasts overall? ForecastWatch answers those questions, and gives you insight into your performance you would not otherwise have.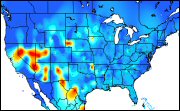 ForecastWatch quickly shows you comprehensive data on temperature hits, misses, error, bias, and other measures of temperature accuracy.
ForecastWatch also calculates precipitation accuracy based on your icon, text, or POP forecast. Hits, false alarms, comparison against a no-skill forecast, and calculation of the odds-ratio skill score are just some of the statistics ForecastWatch offers.
The result of giving ForecastWatch to your competitive analysis team is a better understanding of your strengths and your competitors' weaknesses. The result of using ForecastWatch as part of your forecasting operations is better weather forecasts and better understanding of your model and forecaster performance.
You may also be interested in the following:
ForecastWatch Methods and Scientific Approach, ForecastWatch Provides The Highest Quality Data, and How ForecastWatch Measures Actuals.